WABLGA celebrated its historic 40th anniversary with a spectacular Pre-Season Day held at Royal Perth Golf Club in South Perth on Sunday 17 February 2019.  The Club of Origin trophy is played for on Pre-season day – best aggregate of three players' nett scores (per club).  In 2019, Pinjarra Golf Club was victorious.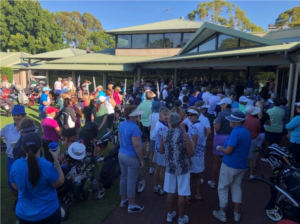 The Day:
A sunny, cloudless day greeted the 121 players for an early morning (8.00am) shotgun start. This annual WABLGA event (Pre-Season Day) welcomes the new winter golfing season and is open to not only current and new WABLGA members but also PAST WABLGA players.  Many new inter-club golfing friendships begin here.
Several more ladies joined in the celebration by attending the lunch only.  This swelled the numbers to 149 for a sit-down 3 course meal which according to feedback received from many attendees, was 5 star!  Royal Perth Golf Club's food, wine and service were at its usual best.
Dessert consisted of an exquisitely decorated chocolate mud cake created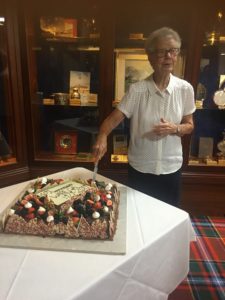 by the talented chef at Royal Perth Golf Club. The cake was ceremoniously cut by Maureen Thomas, life member and followed by a rousing rendition of "Happy Birthday".
The day was organised by a sub-committee of three comprising Rosemarie Eckert and Jill Penter from Royal Perth Golf Club and Sam Vongyer from Pinjarra Golf Club.  The proceedings on the day were capably and amusingly overseen by MC Marie Intini and included a "history of WABLGA" presentation by Jill Glover.  Both these ladies are Royal Perth Golf Club members and former WABLGA members.
Special guests in attendance included almost a full cohort of the inaugural WABLGA Committee from 1979  of WABLGA life member Maureen Thomas, Kay Briggs, Karen Holdsworth and Marjorie Sweetman.
Unfortunately WABLGA's other life member and inaugural committee member, Patsy Best was a late withdrawal due to illness.  Other guests included the Lady Captain of Royal Perth Golf Club Judy Stewart, a representative from WABLGA's 2018 chosen charity, Share the Dignity, Jodie Timms and GolfWA representative Shona Gobby.  The proceedings for the day included the handing over of a $9,000 cheque to Share the Dignity which will used to purchase a feminine products vending machine that will be "WABLGA branded".
Each club was asked to provide a hamper for the charity raffles in favour of the 2019 WABLGA chosen charity of Orange Sky.  11 hampers were judged by inaugural committee members, Kay, Karen and Marjorie with the WABLGA "Swinging Swan" logo inspired Lake Karrinyup hamper taking the prize.  A record breaking $2,000 was raised on the day.
Photos on the day:
Some of the many happy snaps taken on the day can be accessed here.  A poem was penned by past WABLGA President, (1991-92) Sandra Muir (Tuckey) for this anniversary which is available here.
Gift:
Players received a "WABLGA 40th anniversary" embroidered black golf towel on a retractable string as a gift from the Committee to commemorate the event. Ball markers in yellow, white & blue featuring the swinging swan logo were also given away on the day.
Booklet:
To acknowledge this anniversary a 40th anniversary booklet was provided to all participants.  This was a follow-on publication from those produced for the 20th anniversary (1999) and the 25th anniversary (2004). Among other things, these booklets include historical results from WABLGA events since inception.  These booklets can be accessed here:
An excerpt from the 40th anniversary booklet from our WABLGA Life Members, Patsy Best and Maureen Thomas.
 Patsy Best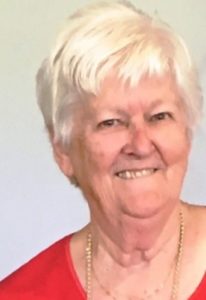 WABLGA was a natural extension of the original concept of working women in golf clubs in Perth joining for pennants and open days.  To formalise this arrangement in 1979 a constitution and conditions of eligibility for being a business associate were established.  Of course, over the years working conditions have changed and quite rightly so has the eligibility to belong to WABLGA.
At the time (1979), Western Australia was the only state to have organised events, especially for working women – who paid the same fees as the associate members but did not have the playing conditions they enjoyed – or access to other clubs
So …. make the most of your time with WABLGA, cherish friendships made and most of all enjoy this frustrating and often annoying "…good walk spoiled."
Maureen Thomas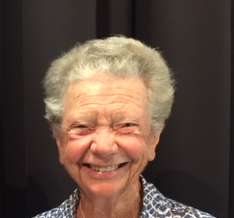 It is with great pleasure that I join with you all in celebrating the 40th anniversary of the formation of WABLGA.  As we all know this formal structure developed from a small number of clubs getting together and planning to play pennants – thanks Nora Watts – and arranging open days at each other's clubs.
Other clubs with weekend golfers joined them which led to the need for a formal committee to plan the year's events and so WABLGA was born.
Many things have changed since then but the comradery remains with WABLGA members enjoying their golf and the opportunity to meet and mix at other clubs throughout the year.
I am proud to have been part of this great organisation for so long.
                          ****************************