Congratulations to Jill Brand of Mandurah Golf Club, the winner of the prestigious 2018 Silver Spoon sponsored by Golf WA.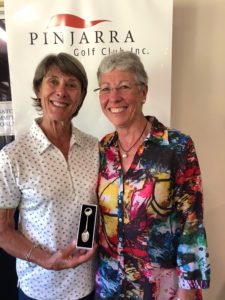 The History of theWABLGA Silver Spoon
The WALGU was founded in 1914 and in 1915 because of the Great War it was proposed "the Union should strike War Medals to be played for over a certain period by clubs belonging to the Union and subject to their approval the competition was to be stroke play". Entrance was 6 pence a card and the proceeds were to go to any "Patriotic Fund". For a few years it was the French Comforts Fund.
In 1927 it was decided to substitute silver spoons for the original medals. These were to be designed by a Mr. Holdsworth who had designed other Championship Trophies for the Union. Special Result Sheets were to be printed and club winners played in a final usually during one of the rounds of the State Championships. The winner received a case of spoons.
There have been many changes of the format and finals over the years, but the original idea of playing a number of stroke rounds and finding the "Champion Silver Spoon" in a final still persists.
In today's WABLGA, the Silver Spoon is considered a most prestigious trophy awarded for the best three nett rounds of five designated stroke rounds.